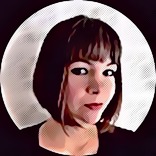 "I have been taking French lessons from Laura together with a friend for over a year. She's a great teacher. She tailored her lesson plans to match our level and kept it interesting. When pandemic hit we were able to switch from in person classes to online without difficulty. I recommend her to everyone of all learning levels!
"Laura is the best! I got the Delf A2 (oficial french exam) just in 2 month with her help! If you want to practice and learn French in an Online classes, Laura is the best option to you. Good schedule to organize and a lot of exercises for learning with her. If I will prepare another french oficial exam, I will soon contact Laura again."
Cristina Yolanda Rodríguez
"Laura has given excellent French lessons since I moved to Toulouse 2 years ago. I started as a true debutant and she's been very patient and makes the lessons varied, informative, and fun. She is also great at tailoring a lesson to a specific need by request (e.g. if you have a doctor appointment coming up)."
French language is one of the top 10 languages of world and do not miss the chance to learn French from one the top tutors in Toulouse. French is taught in universities around the world, and is one of the world's most influential languages because of its wide use in the worlds of journalism, jurisprudence, education, and diplomacy. We offer you a chance to learn French as per ease of your availability and making it a fun learning experience for you.